Extending the Canvas: How Interior Designers Transform Spaces with Art
Designing interior spaces inspired by art is a fascinating venture, and it's the interior designers who play a crucial role in making this creative vision a reality. Art holds immense significance in modern interior design projects, driving a force behind the aesthetics and atmosphere of a space. Art serves as a focal point that can elevate the entire interior decorating scheme, adding depth, character, and a unique touch to each room.
In this blog article, we'll explore how art and interior design intersect, providing step-by-step guidance on how interior designers can effectively incorporate various forms of art into their projects. Whether you're an aspiring interior designer, or simply interested in interior design, this article will offer valuable guidance on creating captivating and art-inspired interiors.
Photo above is by artterra artist Pamela Paulenko. Her trout paintings inspired the continuous lake motif within this interior design render. Click here to discover more paintings from Pamela Paulenko
Step 1: Choose Your Artistic Inspiration
"Flamingo Paradise" by Marianne Nielsen brings colour and abstract art to this neutral interior space.
Selecting the right art piece is the foundation of an art-inspired interior design project. It shapes the atmosphere and personality of your space, setting the tone for the entire endeavour.
Art comes in various forms, each with its unique language – be it paintings, sculptures, photography, or textiles. Your choice dictates the essence of your design, infusing it with a specific style, mood, or narrative.
Step 2: Analyze the Artwork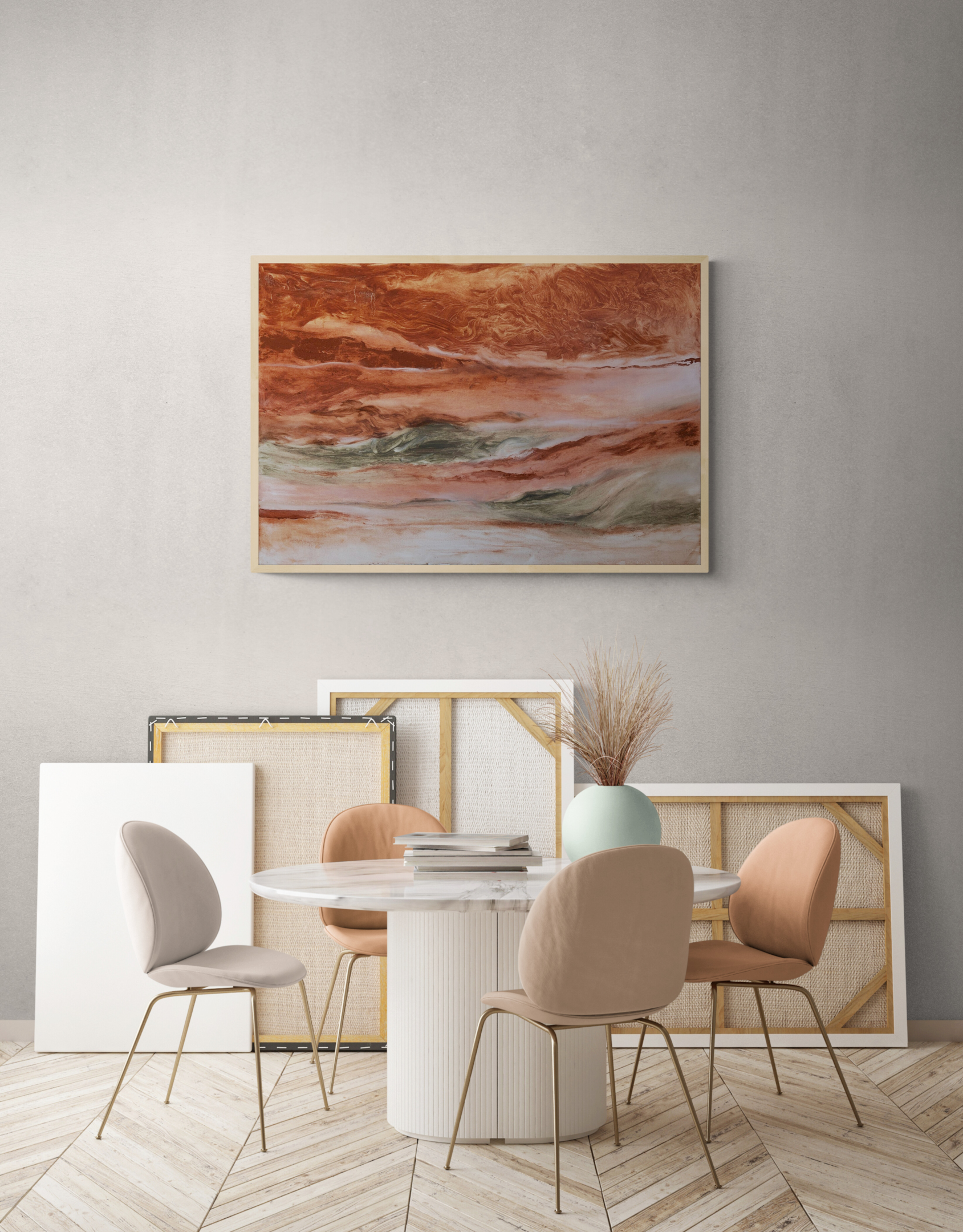 "Quieting the Default Mode Network" by artterra artist, Danielle Petti displayed as one of the initial elements on this interior decorating project.
Careful analysis of the original artwork is essential as it lays the foundation for your interior design project. Consider how the chosen colours evoke emotions and interact with each other. Take note of the artwork's mood, whether it's calming and serene or bold and vibrant.
Equally important is understanding the artist's intention behind the work. What story or message is the art piece trying to convey? By deciphering the artist's vision, you , the interior designer gain valuable insights that will guide your interior design choices.
This analysis ensures that the decoration of your interior space not only reflects the aesthetics of the artwork but also captures its underlying essence and purpose.
In the painting above for instance, the artist Danielle Petti, is focused on brining attention to the connection between human and the earth by painting with dirt and her hands. 
Step 3: Establish a Color Scheme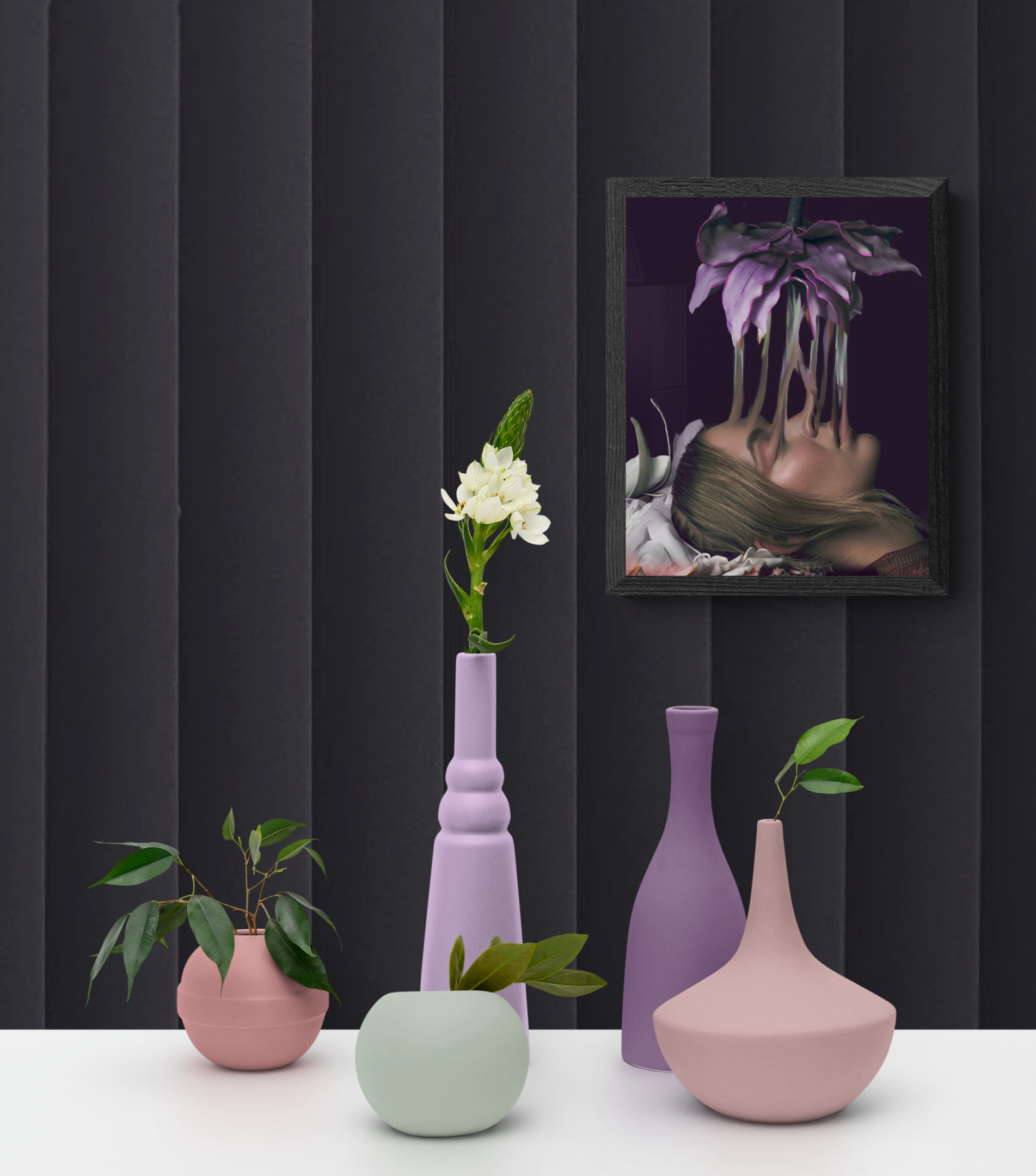 "Feeding on Nature" by artterra artist, Chahat Soneja is the inspiration for this plant and planters collection colour scheme.
Crafting a harmonious colour scheme based on your chosen artwork is pivotal for an art-inspired interior. Begin by identifying the original artwork's dominant colours, forming the foundation of your palette and infusing the space with its mood.
Apply one dominant hue to the walls and use the others in furnishings and decor, ensuring a cohesive design. Consider the emotional impact of colours: cool tones like blues and greens induce calmness, ideal for bedrooms or serene areas, while warm hues like reds and oranges add energy, perfect for social spaces.
As interior designers, Balancing colours lets you shape the room's ambiance, aligning it with your desired atmosphere. Your chosen colour scheme unifies the art-inspired interior, harmonizing visual elements and setting the overall mood for the space.
Step 4: Incorporate Artistic Elements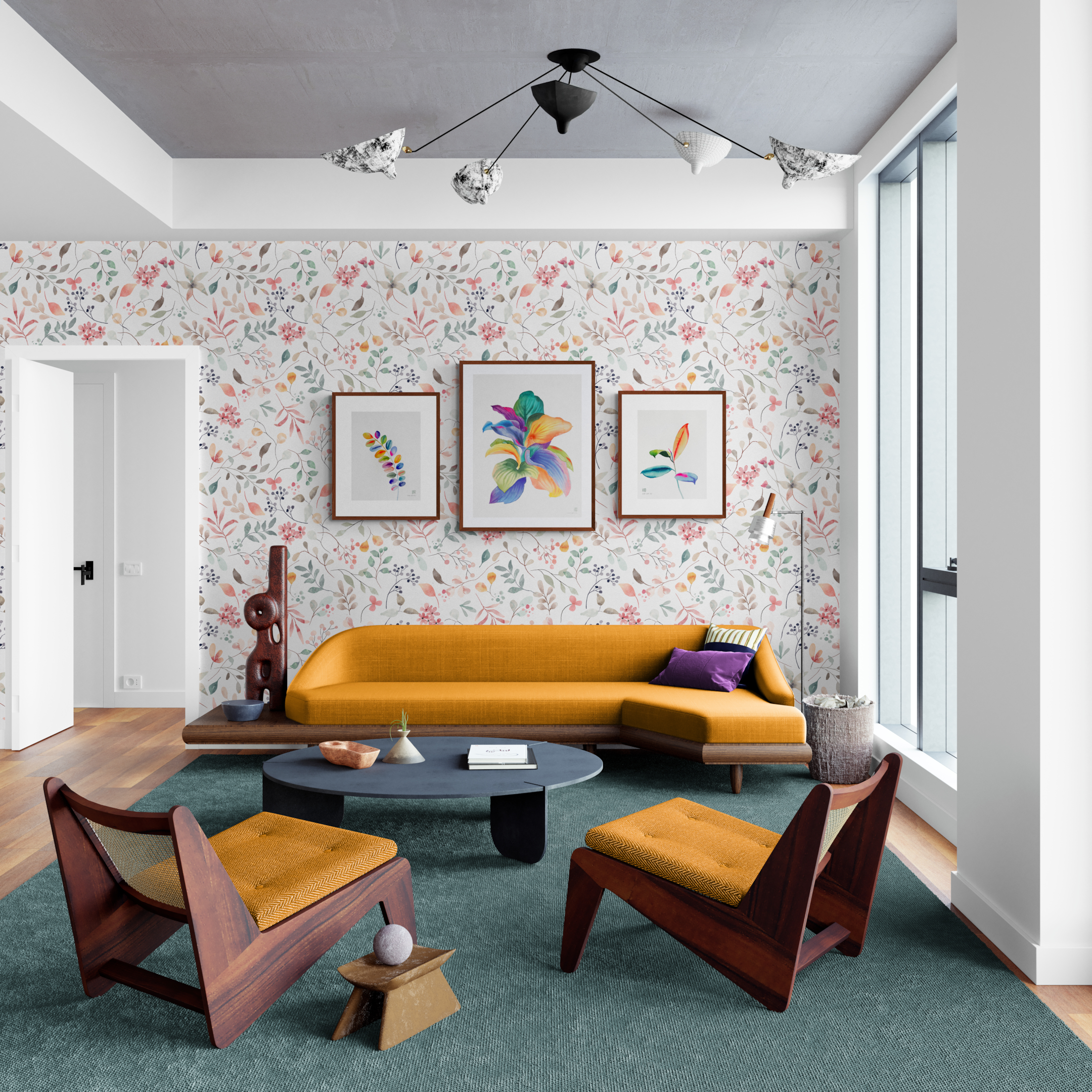 Paintings by artterra artist Xiao Wen Xu hung within a maximalist interior space inspired by her colour palettes and form.
Infusing artistic elements from your chosen artwork into your interior design is where creativity shines.
Start by analyzing the artwork's patterns, textures, and shapes. These are the building blocks for adding artistic flair throughout your space.
Patterns found in the art can translate into textiles like curtains, pillows, or rugs, creating visual connections between your interior and the artwork. Consider textures too; if the original artwork features rough, organic textures, bring in natural materials like wood or stone.
Conversely, a painting with smooth and glossy textures can inspire sleek furniture and polished surfaces. Shapes from the art can influence furniture silhouettes or architectural details. As interior designers, by thoughtfully selecting and applying these artistic elements, your interior design becomes a vivid reflection of the chosen artwork, forging a harmonious and visually captivating space.
Step 5: Create a Focal Point
In Christine's series on the Cascades, the human and animal presence is invisible, nature being the focus, conveying power and strength.Start by positioning the artwork strategically, considering factors like eye level and sightlines to ensure it captures immediate attention. Clever lighting, whether it's track lighting, wall sconces, or picture lights, can cast a spotlight on your art, adding depth and drama.
Framing plays a pivotal role, framing options can emphasize the art's significance, and even the frame itself can be a particular piece of art.
By implementing these techniques, your chosen artwork becomes the magnet that draws the eye, transforming your interior space into a curated gallery where art takes center stage.
Step 6: Balance and Harmony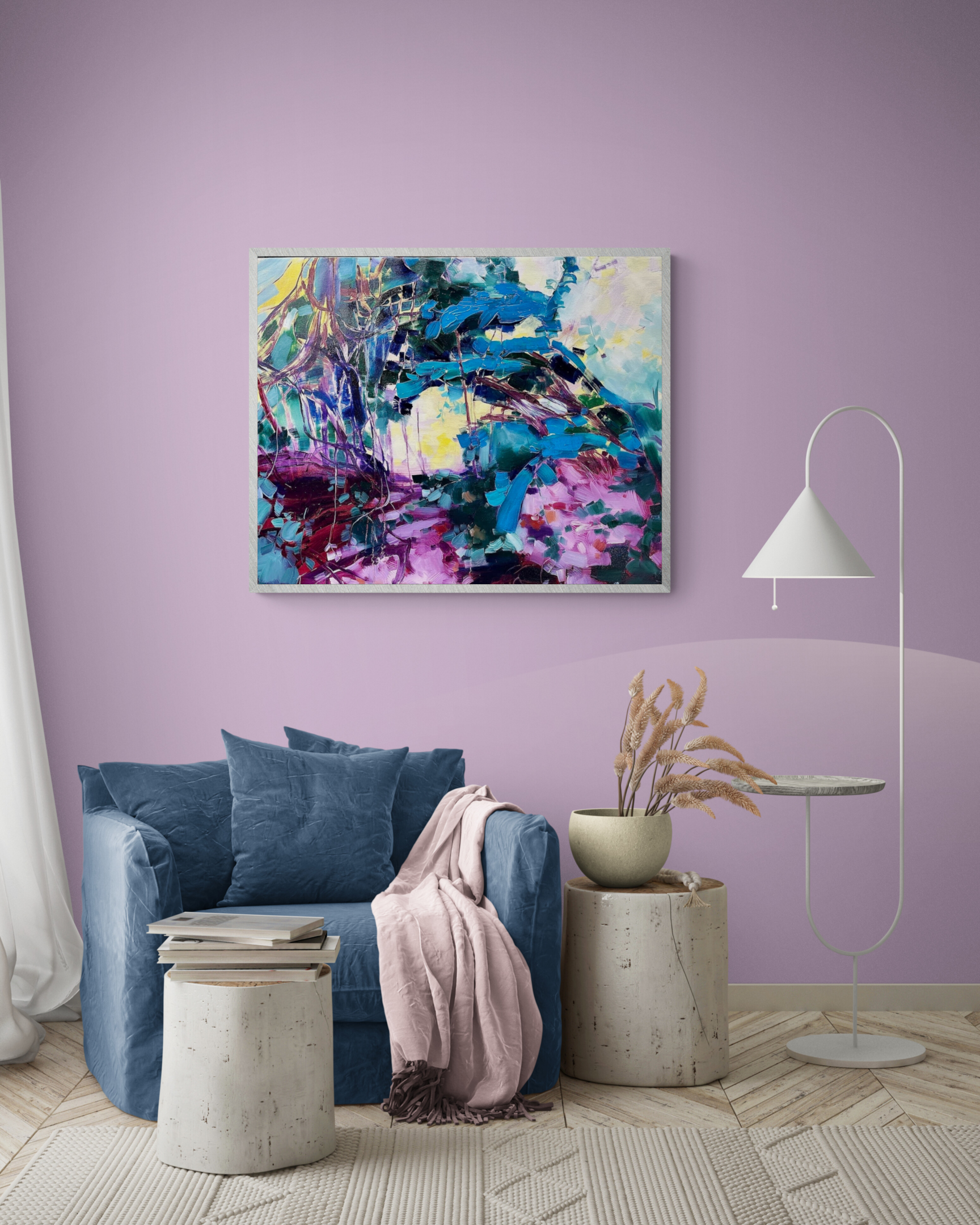 "Beautiful Blue" by artterra artist, Tina Ding, is the inspiration to this interior space's vibrant colour and close composition.
Achieving balance and harmony within your art-inspired interior space is essential for a visually pleasing and cohesive interior design. It involves carefully orchestrating elements to create a sense of equilibrium and unity. When arranging furniture and decor, consider the scale and proportion in relation to the chosen art piece.
Sculptures, paintings for interior design, and larger artworks may require more substantial furniture or fewer decor items to maintain balance, while smaller pieces can be complemented with delicate furnishings or additional accents. A symmetrical arrangement can convey a sense of formality and order, while asymmetry can infuse dynamism and creativity.
Balancing colours, textures, and shapes throughout the room ensures that the art remains the centrepiece while harmonizing with the overall interior design, resulting in an interior that feels both inviting and aesthetically pleasing.
Step 7: Personalize and Evolve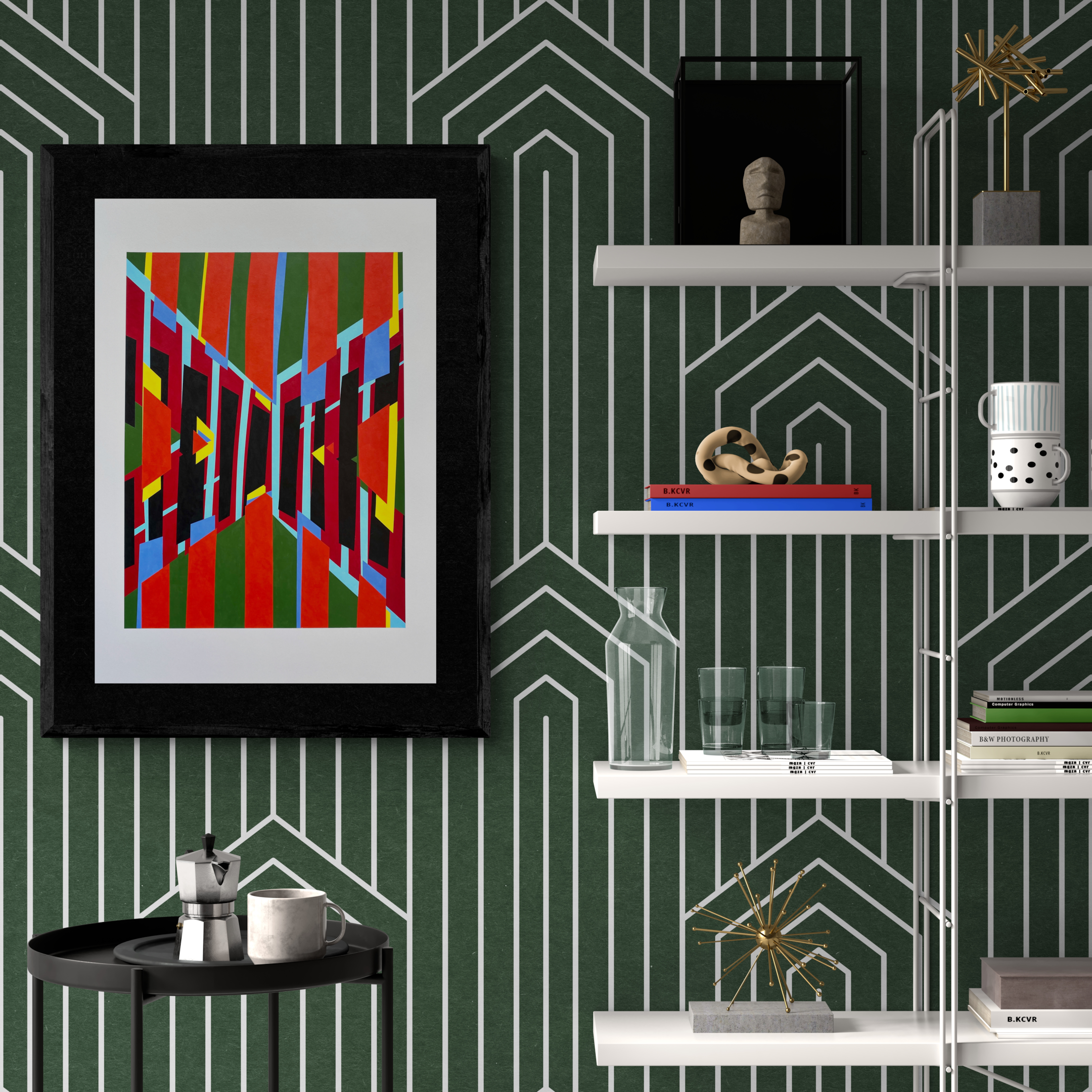 Painting by Christopher Barnabe, shown next to a personal collection behind a vertical wallpaper that complements the concept of his series.
As you embark on your journey of art-inspired interior design, don't forget to infuse the space with your unique personal touches. Your interior space should be a reflection of your tastes, interests, and experiences. Consider adding elements that resonate with you on a deeper level, whether it's family heirlooms, travel souvenirs, or cherished artworks.
Furthermore, remember that your tastes may evolve, so embrace the idea of a dynamic space that can grow and change with you. Incorporate art and decor elements that are easily interchangeable, such as throw pillows, artwork, or accessories. This way, you can refresh the ambiance and adapt the space to your different styles and evolving preferences, ensuring that your art-inspired interior remains a canvas for your ever-changing artistic journey.
Conclusion
Art inspires, evokes emotions, and sets the tone for our living environments. It breathes life into the world and our spaces, transforming them into canvases of creativity and self-expression.
Designing interior spaces inspired by art is an invitation to craft unique narratives, infuse personality, and awaken the senses.
So whether you're embarking on a grand interior design project or simply seeking to infuse your home with a touch of artistry, remember that the interplay between art and interior design is a boundless realm of possibility.
Embrace it, and let your space become a living testament to the beauty of art in all its forms.


Share
Comments
0