Culture Scheme: Indigenous Design
Culture Scheme is a new online blog series that champions heritage expression and informs designers of ways in which culture can influence the design of interior spaces. The blog post series will spotlight cultures that have integrated their worldview into the design and highlight projects from designers who identify with the culture, work closely with the community. or similar ideologies.
Understanding the Importance of Indigenous Architecture and Design Process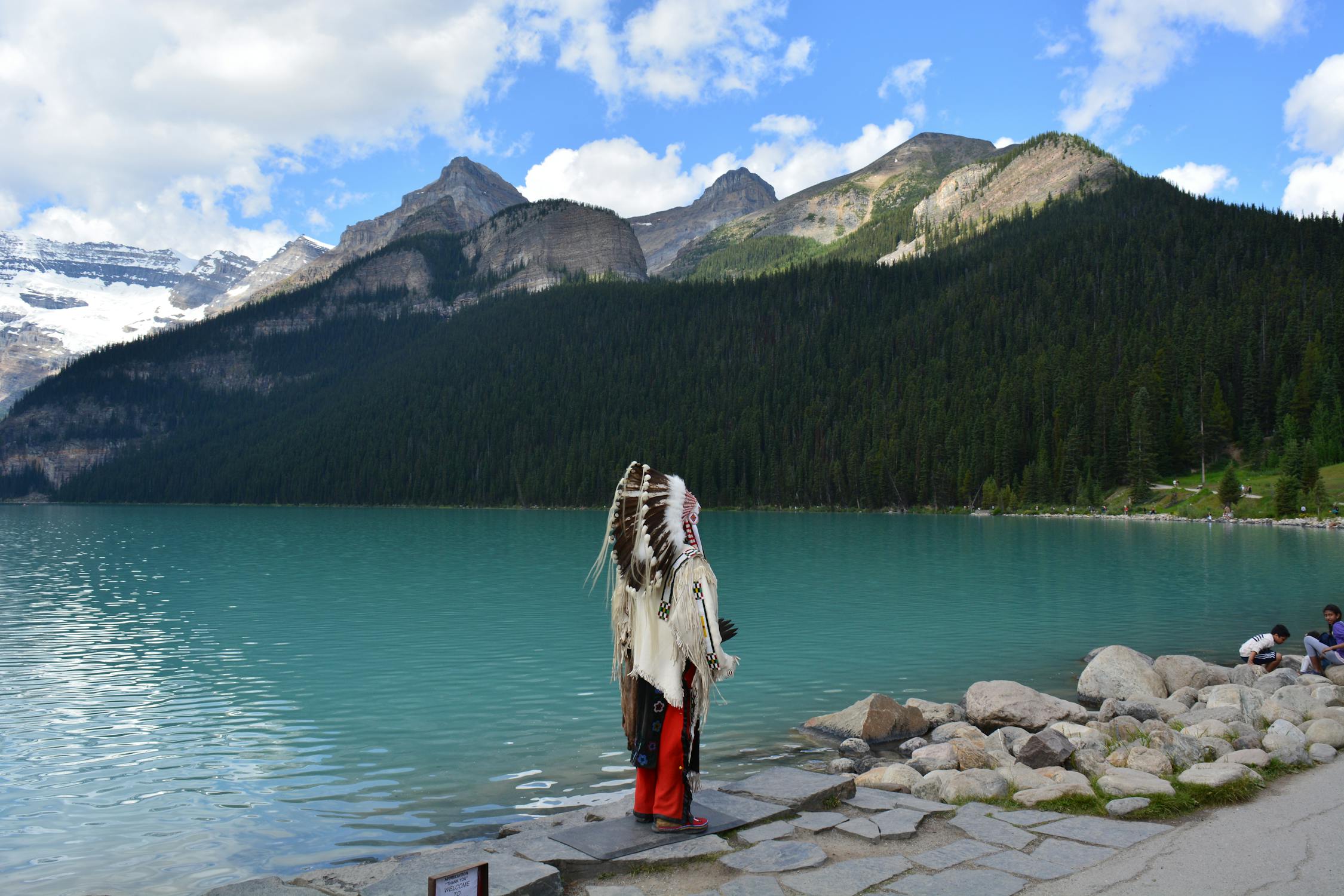 Indigenous Design is an art and design movement that celebrates and incorporates Indigenous cultures, traditions, and values into architecture, interior design, planning, and art. Gaining recognition for their beauty and environmentally conscious designs, Indigenous' colourful vibrant art culture often takes the form of natural and geometric forms found in nature.
It's a topic of great importance, given the need to preserve and honour the cultural heritage of Indigenous communities. This article explores the concept, importance, characteristics, principles, and relevance of Indigenous Design.
Indigenous Design: Understanding the Concept and Significance
Indigenous Design refers to the integration of Indigenous knowledge, practices, and beliefs into the creation of art, architecture, and planning. It is a way of acknowledging and celebrating the diversity, richness, and complexity of Indigenous cultures and communities.
The significance of Indigenous Design lies in its ability to promote cultural diversity, social justice, and sustainability. It also recognizes and respects the Indigenous peoples' sovereignty over their lands, resources, and cultural heritage.
The Indigenous design approach studies the empirical, practical, emotional and spiritual needs of the built environment. Focus on storytelling through their work, Indigenous designers are dedicated to developing projects that harmoniously reflect culture, the indigenous community members, living creatures and nature.
The Indigenous culture educates one on the responsibility to the earth and to future generations, thus they commonly practice sustainability in their design. Generally, Indigenous designs are influenced by the local resources and natural materials of the surrounding environment. 
Indigenous Designs are characterized by a strong sense of place, culture, and community. They reflect the ecological, social, and spiritual values of Indigenous peoples and nations. Some of the characteristics of Indigenous Architecture and Interior Design include:
Use of natural materials

Harmonious relationship with the environment

Inclusion of sacred spaces

Integration of Indigenous Symbolism and Motifs
The principles of Indigenous Design are rooted in the Indigenous worldview and values. They include:
Community engagement and participation

Sustainability and environmental stewardship

Respect for cultural heritage and traditions

Adaptation to local conditions and contexts
Canadian Indigenous Art, Architecture, and Design Projects
Douglas Cardinal & Alex Janvier: The Canadian Museum of History
The Canadian Museum of History is a prime example of Indigenous Architecture and Design. The Indigenous Architect, Douglas Cardinal, explains his form-finding process with respect to the land, while also reflecting on the Indigenous peoples' diversity and richness, including their beliefs, traditions, and histories.
Douglas Cardinal also worked with Indigenous Artist, Alex Janvier, to include his masterpiece Morning Star - Gambeh Then' on the ceiling of the main atrium. Morning Star illustrates the history of the land we live in from the artist's Dene Suline perspective and expresses the hope of mutual respect.
HCMA: Wii Gyemsiga Siwilaawksat Student Building
Another Architectural example, recently built by HCMA is the Wii Gyemsiga Siwilaawksat Student Building. Located in British Columbia, Wii Gyemsiga Siwilaawksat Student Building is a student housing building completed in 2022 for Coast Mountain College that empowers Indigenous communities, community members and students to flourish in postsecondary education.
Guided by an Indigenous-led process of co-creation, the design is informed by Indigenous peoples' stories—and their right to share their histories with future generations. The central celebration space hosts eight, six-foot tall cedar house posts, each telling unique stories of the First Nations communities the school serves, while each student housing floor has a theme that represents their distinct cultures expressed through artwork and carved cedar panels.
Sabina Hill: Salt Spring Island Art Inspiration
The artpieces by Sabina Hill integrate Indigenous design principles in her artwork. Born in Vancouver, BC, and descended from four generations of Pacific Coast Canadians living between the forest and the sea, Sabina is inspired by her sense of place and tells a visual story through her innovative designs.
In this Salt Spring Island Art Inspiration, Sabina takes her inspiration from her relief printmaking background to this Gulf Island residence's double-sided sliding door art panel. The sculptural 'hallway' references the block or carved side, expressed in relief with its depths of surfaces, colours and materials. The 'study' suggests the pulled print from the block, the artist's proof; the smooth surface forms are expressed with line work and aluminum inlays. Vertical walnut handles reference the architectural beam and window mullion beyond.
Indigenous Design and its Relevance Today
So as Interior Designers, how can we begin incorporating Indigenous ideologies into our building projects?
Indigenous people are not shy of utilizing colour, texture, form and natural materials to express storytelling in their designs. The biggest influence you can find in Indigenous design is nature. This can be represented through different motifs and choices of finishes.
Not only that but also considering the site context in which the design project is situated, how can we best incorporate our concepts into the site? - In consideration of the land, Indigenous architects and communities often orient their environment to correlate with the sun's movements during the day. We encourage designers to also consider sustainability, utilizing local materials and working with local businesses.
Indigenous Design has a vital role to play in contemporary architecture, planning, and design. Incorporating Indigenous knowledge, practices, and values, can promote cultural diversity, social justice, and sustainability. It can also contribute to the healing of historical traumas and the empowerment of Indigenous communities.
Conclusion
Indigenous Design is a movement that celebrates and incorporates Indigenous communities, cultures, traditions, and values into art, architecture, and planning. Its importance lies in its ability to promote cultural diversity, social justice, and sustainability. It also recognizes and respects the Indigenous peoples' sovereignty over their lands, resources, and cultural heritage.
By integrating Indigenous Design into contemporary architecture, planning, and design, we can contribute to a more just, inclusive, and sustainable world. Let's work together to respect and appreciate Indigenous cultures and communities.
Cultural Artist: Jessica Somers & Szende Tunderligeti
Indigenous peoples often express themselves, their stories and their histories through creative outlets. Thus they are huge advocates of displaying art in their interior spaces.
Jessica Somers is an artterra artist that centers around the teaching of elders in her community. She uses her paintings as a tool for self-reflection, sharing knowledge, teaching moral lessons and telling stories.
Jessica Somers' painting, Power of Sisterhoods, is a notable storytelling masterpiece and is available on the artterra website.
"There is one thing I have learned since becoming a mother, the power of sisterhood. Whether it is a relative or a close friend, these women are my peeps. What I love about them is that not all are mamas. I have single friends, older friends with no children, and even young adults. Sisterhood is a bond that goes beyond being family. It connects women to each other and in its most magical manifestations, allows each woman in the sisterhood to thrive in ways she could never do on her own.
Throughout the window of time before, during, and after a woman gives birth, she is more open, more vulnerable, and more sensitive. Everything around her will impact her more intensely–words, images, behaviour–whether positive or negative. Imagine if every woman was surrounded by love, positivity, and support throughout her entire birthing time–before, during, and after. A supported mother has the strength and ability to care for her child with peace and love. And a child who is cradled in peace and love will have an increased strength and ability to grow into an adult who treats others with greater peace and love.
A Sisterhood provides a safe space for the truest self to emerge. It is a place where tears are caught not judged, where you are held not ridiculed, and where it's okay to not be okay. Parenting is hard.
These friendships with these women are so important to me. It is what bounds us, strengthens us, and empowers us. Whether these friendships are short-term or forever, I cherish them. I try and make the most of it. When these experiences and memories randomly, and spontaneously cross my mind, I smile. I laugh. I shed a tear. I reminisce.
I am so grateful, and so blessed to be taking part in life with them. In turn, I can only aspire that I am half the friend they are to me. Never be afraid to reach out, make a call, send a text or knock on their door. Sisterhood is about being deliberate, willful and making an effort. Because, the journey in life can get rough, and sometimes lonely and life is too short to experience that.
Here's to my sisterhood, my peeps, may we embrace the sisterhood we share and rise into greatness together."
Bear Medicine also by Jessica Somers' expresses her Indigenous heritage and relationship.
"The bear is considered a powerful and sacred animal, often revered for its strength, wisdom, and connection to the natural world. She is a symbol of healing and transformation. The bear is associated with the concept of "medicine," which refers to spiritual power and energy. The bear is believed to possess a unique and potent medicine that can help individuals overcome illness, trauma, or other challenges.
In my culture, the bear is associated with qualities like courage, tenacity, and protection. Many indigenous groups view the bear as a guardian or protector and may use bear imagery in their art or clothing to symbolize these qualities.
Bear cubs are born in February. Mothers will lick their cubs and clean them with snow. An elder once told me when you see heavy fog in the air in the morning late January or early February, you just know a cub has been born. As I complete this painting, daylight is breaking and the fog is just lifting off the lake."
Another artterra artist who takes inspiration from found materials and colour is Szende Tunderligeti. Szende's art piece Grounded is inspired by the mind-body connection with nature.
"I believe that nature has the power to ground us and foster connections between our disparate parts. For me, birds have always been a potent symbol of freedom and flight, and so I chose to incorporate them into the design."
Szende's work further expands on her own heritage and storytelling through colour, organic shapes and patterns.
 Learn more about Szende Tunderligeti & Jessica Somers work on our website!
 

Megan Barrientos is a multidisciplinary designer and grad student pursuing her Masters degree in Architecture. Prior to her enrolment, Megan graduated with a Bachelors Degree in Interior Design and worked with several Designers in art installations, exhibition, office, and retail design projects. She is now working with artterra in writing newsletters and blog posts for Interior Designers.

Whether it's websites, graphics, animation, furniture, or spaces, Megan loves to design projects that tell new or untold stories. She gets most excited on projects that discuss cultural preservation, heritage, and community engagement.
Share
Comments
0